FMF Doc's List of
CORPSMAN ASSOCIATIONS
FOR
ACTIVE DUTY AND VETERANS


Corpsmen United
---

American Association of Navy
Hospital Corpsmen
E-Mail to:
RON WILSON HMC USN RET
.
---

Association of FMF Combat
Medical Personnel
E-Mail to
fmfcombatmedpers@worldnet.att.net
E-Mail for Reunion information.
---

Fleet Marine Force
Grunt Corpsmen Association
E-Mail to: me
No Reunions planned at this time. Under Reorganization
All past members are still considered current.

MEMO to MEMBERS
Looking for members that would like to write a page for the News-Letter and meet deadlines on a regular basis. Several topics are available.
If your interested, contact Doc Skip Coggin by E-Mail Above.

FLASH !!
New Navy Corpsman Club has been formed at YAHOO.
Find old friends and make new ones.
Chat Room / Calendar / Friends / Profiles / Message Board / and More
---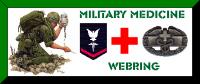 Back to Doc's Sick Bay