---
Fleet Marine Force
Grunt Corpsmen
Association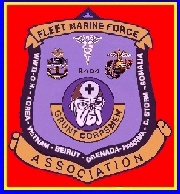 MEMO:

Dear Members,

I'm writing this memo to let all Members know what the latest is on the Association, and the plans of the future.

I started this group with very little if no help back in 1991-92. It rapidly grew to 500 plus members in a very short time span which I have to admit overwelmed me, and my ability to keep up.
I searched all over trying to find a corpsmen group, but couldn't find any signs of one. Then after some advertising about starting this group up for FMF Corpsmen, I got a call from a FMF Corpsmen group out in California, FMF COMBAT MEDICAL PERSONNEL was only members that served in combat and at that time only from W.W.II and KOREAN . They have since changed there By-laws and is a great group to consider joining. They also need help.

The only other was CORPSMEN UNITED that started up about the same time I did. They are a good group to support also. They both need good members to get involved.

A couple years after starting up, one of our members started up yet another group AAONHC. Joe Havens had another vision of a corpsmen group.
I would like to see Corpsmen United and AAONHC merge. That would make them stronger.

So much for History.
What about our group, Past, Present and Future?

PAST - I have been getting treatment for P.T.S.D. after I saw a certain HBO Special on Nov. 16, 1987 about (Vietnam) Marines patients on a Hospital Ward. I hit me like a ton of bricks. All the pain, misery, camaraderie, friendships (new and old), conflicts on the ward as well as the good times. Needless to say, a large percentage of the public was against what we were doing as members of the Armed Forces. That was hard for me to understand the protests and such. After getting off active duty back in Nov. 1968, I thought I had put ALL that behind me and thought I had pushed it all out of my mind so I could get on with my life. Then came that HBO Special. POW!, right between the eyes.
Anyway, in Aug. 1995 everything seemed to fall apart after outr second Reunion in Memphis, TN. Only nine Dedicated Members showed up out of 500, I felt let down. But I will say, we had a great time. Trouble was with a low turn out, I had on-hand about $600.00 worth of Association shirts, caps, logo keychains and pins.
Then I didn't have the money to go to a couple (I thought) very important events. One at Great Lakes and the other in Washington, DC. Then in Sept. '95 my house got hit by Lightning. The computer was only one of several things we lost. Again the deep depression started in.

I had tried to get some of the members to take onto themselves a few of the pages of the Newsletter so I wouldn't have to do it all myself. Had a couple takers, but not enough to really help.

PRESENT and FUTURE - For the time being, all past members are still considered members in GOOD STANDING and IF I get enough interested members and help to put the newsletter back together, we will continue to put out a First Class Newsletter.

If you are interested in Joining and/or helping with the News-letter, E-Mail me.

---

FOR MEMBERS ONLY !

We still have on-hand,
FMF GRUNT CORPSMEN:
T-shirts: $16.00 ea. All Sizes
Caps: $10.00 ea. Still have a few Charter Member Caps On-hand
Keychains: $10.00 ea.
Lapel Pens: $10.00 ea.

We also have several back Issues of some of the NEWS-LETTERS at $1.50 each.
ALL PRICES include postage.
Thanks you for your time, and God Bless you all,
Doc Skip Coggin
President / FMFGCA
Up dated on 2 April 1999